When most people think about Palestine, the first words that come to mind are occupation, conflict, the wall, and settlements. While these perceptions are valid, they often make us overlook the wonderful aspects of the region, known for its great variety of beautiful places and activities.
For thousands of years, kings, emperors and peasants, Popes and pilgrims alike have come to Palestine for salvation, for redemption, for fulfillment, and for riches. Palestine's unprecedented historical significance is a testament to its value as a land. Buying a piece of Palestine is not only a way to connect with one's identity and roots, but also an opportunity to enjoy idyllic views filled with olive groves and community life, yet still closely connected to cultural hubs like Ramallah, and historic cities like Jerusalem, Bethlehem and Jericho.
Out of the dozens of gorgeous areas across the West Bank, TABO has chosen a few special areas where it has made parcels of land available for sale: in Kobar, Farkha and Qarawa Bani Zeid. While the driving force behind the TABO initiative is to help protect Palestinian land and ensuring it stays in Palestinian hands, there are a myriad of reasons that make these areas a desirable location to move to.
Kobar
Kobar is a beautiful Palestinian village situated among rolling hills, breathtaking scenery and olive groves. Located 9 km northwest of the centre of Ramallah and a mere 3 km from Birzeit University, one of Palestine's leading academic institutions, Kobar is a prime location for prospective Palestinian homeowners. The unobstructed views display some of the best natural offerings in the West Bank, and is well connected to Ramallah, the current cultural, artistic and commercial hub of the area. Its location allows its residents to remain close to the city, while enjoying the quietness and beautiful nature. It is also an ideal place for outdoor sports, such as hiking. In fact, a well-known hiking trail passes through the village, going from Birzeit to Deir Nidham.
Qarawa Bani Zeid
In the same area is Qarawa Bani Zeid, situated in the central highlands of the West Bank. It has the picturesque view of luscious olive trees and the valley, as the northern part of the town is built on a hilltop. Alongside its aesthetic appeal, the landscaping model developed by TABO allows the residents to enjoy the incredible beauty that engulfs the site's position. Through a combination of cultivating, fencing and beautifying of the landscape, the region's rich potential and outstanding nature is accentuated, establishing it as a premium leisure destination for families and an attractive location for investors. Qarawa is located approximately 20 km north of Ramallah and very close to the city of Salfit.
Farkha
Located in the central West Bank district of Salfit, Farkha has become known for being the first Palestinian Eco-Village, where one can find a zero-waste, food-producing and nature-harmonizing way of life. Moreover, the community of Farkha has recently started renovating selected historic buildings to use as cultural and community centers for residents and visitors, in addition to starting initiatives to reduce waste leaving the village. These movements have made the area more autonomous and have helped strengthen the sense of community.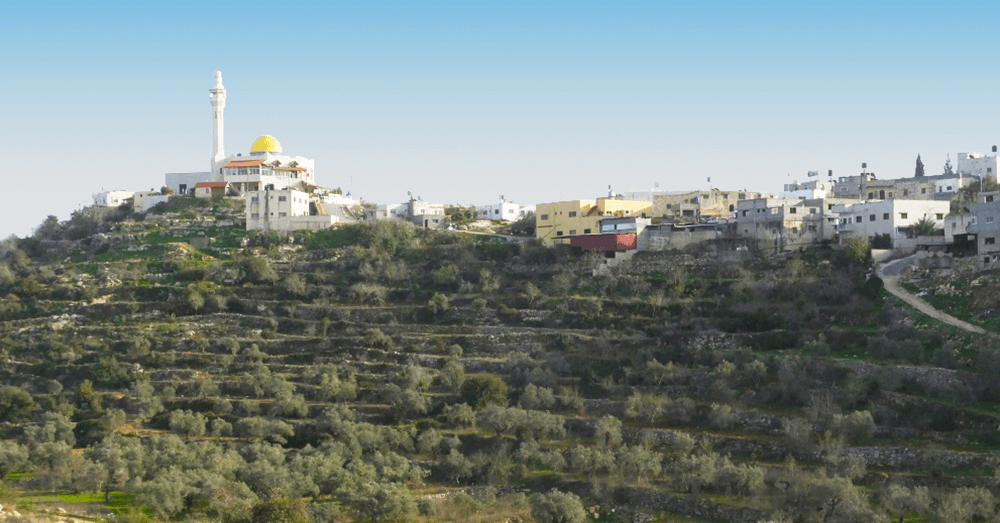 These villages offer calm and a picturesque location to enjoy the Mediterranean climate. Nearby cities like Ramallah and Birzeit offer a great cultural life with cafés, bars, museums, film screenings at every corner, and even activities like climbing in the valleys or visiting the Taybeh brewery. The entire area has an abundance of historical and archaeological sites for everyone to enjoy. TABO parcels are also close to cities like Jerusalem and Bethlehem, full of historic and religious sites and popular festivities like the Christmas celebrations in Bethlehem.
While Palestine is suffering from aggressive policies of dispossession, it is also home to wonderful landscapes, valleys, nature, history and culture. Embracing these treasures not only makes life in Palestine enjoyable, but it is also a very strong tool to reaffirm Palestinian roots to the land and reinforce the presence of Palestinians in their homeland.